FIRE AND RESCUE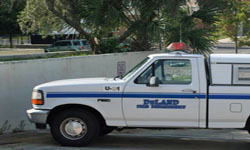 The DeLand Fire Department Administrative Offices
201 W. Howry Avenue
Station 81
DeLand, FL 32720
Business Phone: (386) 740-5837
Fax: (386) 740-6865

EMERGENCY: Emergency: 911

Business Hours:
Monday - Friday 8:00AM - 5:00PM

After Hours Non-Emergency:
(386) 740-5834

MISSION STATEMENT OF DELAND FIRE DEPARTMENT:

"It is the mission of the DeLand Fire Department to provide, in the most resource efficient and cost effective methods available, the highest level of life safety and property protection achievable through the implementation of Fire Prevention/Public Education services, Fire Suppression techniques, and Medical/Technical Rescue efforts."

VISION STATEMENT:

"The DeLand Fire Department strives to be the most efficient, effective, and safest all hazards response agency in the State."

The Deland Fire Department operates 3 fire stations; stations 81, 82 and 83. In addition the Volusia County Fire Services operate 5 fire stations within the outer boundaries of the city of DeLand. The city and county work together in what is called a "closest unit/auto-aid emergency response plan" which was first implemented in 2003. What this means is that regardless of actual jurisdiction boundaries, the closest fire station will respond to any citizen request for assistance in a fire emergency. City of Deland and County of Volusia boundaries overlap throughout the greater DeLand area. They use a common communications center that provides excellent dispatch and response without delay, anywhere within the jurisdiction.