DeLand Public Library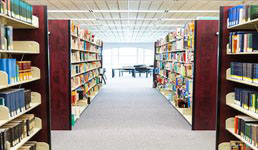 LOCATION
130 E Howry Ave
DeLand, FL 32724 (386) 822-6430

Hours:
Sun. 1:00-5:00
Mon. - Thu. 9:30-7:30
Fri. & Sat. 9:30-5:00

The DeLand Public Library is a branch of the Volusia County Public Library System. The library is consistently ranked tops in all of the Volusia County services. In addition, the Friends of the Library help with the overall quality of the library system by fostering lifelong learning and education, and providing volunteers and financial support. The Deland Library branch offers residents and visitors a variety of programs and special events throughout the year.

Storytime: DeLand Library Children's Department
386-822-6430 Ext. 112
Thursdays at 10:30am
Stories, music and a craft in the library auditorium

Moms Club of DeLand
DeLand Library 386-822-6430
Location: DeLand Public Library Auditorium

Friends of the Library Monthly Book Sale
Contact: DeLand Library 386-822-6430
Location: Deland Library Auditorium
Proceeds benefit the DeLand Library

Sunday Matinee at the Library
Location: DeLand Library Auditorium
1:00pm - 4:00pm

Volusia County Romance Writers
Contact: DeLand Library 386-822-6430
Location: DeLand Library Conference Room
Saturday 2:00pm - 4:00pm

Other events may include computer classes, knitting and craft lessons, exercise class for children, forums on how to use social media such as facebook and Twitter, and more. Contact the library for a full schedule of events.